Welcome to Step By Step Granite Ltd
ORDER YOUR GRANITE STEPS FOR WINTER NOW.
FREE ESTIMATE AND SKETCH - THIS MONTH ONLY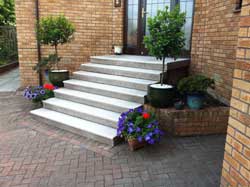 Step By Step Granite Ltd are a family run firm specialising in the supply of granite steps for home or business.
We also offer a supply & fit service of granite steps.
Our steps are fully designed to suit all homes and premises. We can provide services across the UK including Scotland, England and Wales.
If you require new front door steps in the Glasgow or Lanarkshire area then we at Step by Step Granite Ltd have the skills and experience to complete any job to high satisfaction.
View some recent granite step projects here
All our granite garden steps are extra grip for better footing.
Visit our showroom to view a wide range of colours and sizes.
Our showroom is open 5 days and weekends with prior arrangement serving the public and trade.
We can specifically design steps to suit our customer wishes.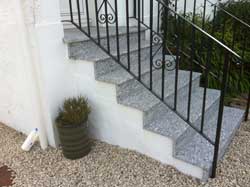 Step By Step Granite Ltd has designed an over tread system, to suit all types of stairs without removing old ones. We can also supply or supply and fit solid granite steps which can completely replace existing stairs.
Granite steps are extremely hard wearing and extra grip. Rock salt would usually destroy concrete products in the winter but it keeps granite looking new and will not damage it.
View a range of colours, sizes and designs.
Contact us today on 0141 641 8234 or complete our enquiry form to find out more.
We serve the following areas: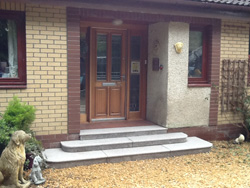 Granite Steps Glasgow - Granite Steps Lanarkshire - Granite Steps Edinburgh - Granite Steps Scotland - Granite Steps Paisley - Granite Steps Bearsden - Granite Steps Cumbernauld - Granite Steps East Kilbride - Granite Steps Stirling