step refurbishment Motherwell ~ non-slip steps Motherwell ~ garden steps Motherwell ~ New Front door steps Motherwell ~ step replacement Motherwell ~ Front Door Steps Motherwell ~ concrete steps Motherwell ~ Granite Steps Motherwell ~ door step tiles Motherwell ~ new steps Motherwell ~ Tile Steps Motherwell
New steps Motherwell
Step by Step Granite Ltd specialise in tile steps throughout Motherwell and surrounding areas.
We are a family run firm specialising in the supply or supply and fit of granite steps, fully designed to suit all homes and premises.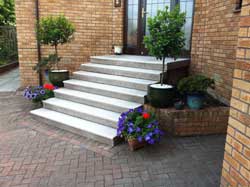 Step By Step Granite Ltd has designed an over tread system, to suit all types of stairs without removing old ones. We can also supply or supply and fit solid granite steps which can completely replace existing stairs.
Granite steps are extremely hard wearing and extra grip. Rock salt would usually destroy concrete products in the winter but it keeps granite looking new and will not damage it.
With a wide range of styles and colours to choose from please visit our showroom to decide the best new steps for you.
We can provide:

New front door steps
Garden steps
Concrete steps
Door step tiles
Step replacement
Step refurbishment
Contact us today on 0141 778 9888 or complete our enquiry form to find out more.
step refurbishment Motherwell ~ non-slip steps Motherwell ~ garden steps Motherwell ~ New Front door steps Motherwell ~ step replacement Motherwell ~ Front Door Steps Motherwell ~ concrete steps Motherwell ~ Granite Steps Motherwell ~ door step tiles Motherwell ~ new steps Motherwell ~ Tile Steps Motherwell